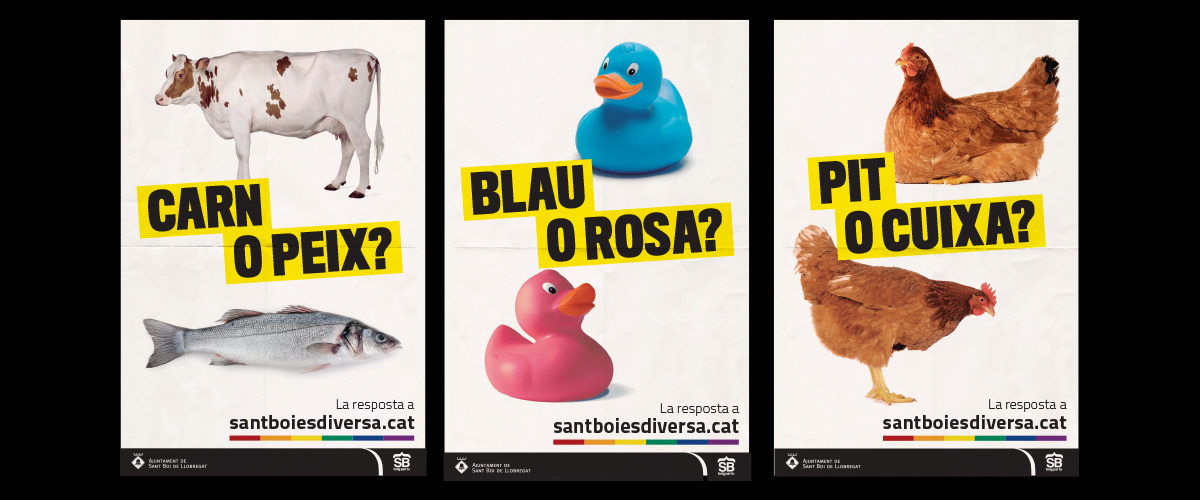 Communication campaign 'Sant Boi is diverse'
Neither black nor white. Neither thigh nor breast. Neither meat nor fish. Life isn't always binary, and human gender includes a wide range of options—even if our patriarchal system hides most of them away. This is the essence of the 'Sant Boi is diverse' campaign we created for the City Council of Sant Boi de Llobregat and for June 28, international LGTBI Pride Day.
Client:
Ajuntament de Sant Boi
This campaign is a call to action, for inhabitants of Sant Boi to respond to the city's first questionnaire on LGTBI discrimination.
Besides coming up with a motto and the graphic design for the campaign, l'Apòstrof is behind all digital and street-level initiatives.
The press showed plenty of interest in this campaign, which appeared in public spaces with a message in favour of sexual and gender diversity. This happened not long after the homophobic Hazte Oír campaign bus went on a tour of Spanish towns.